Stop APPI Hate
Covid-19 Anniversary Sparks Surge of Hate Crimes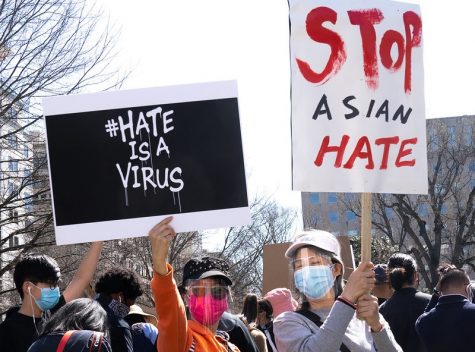 America throughout its history has championed itself for being the international leader for diversity, freedom, and equality. In reality, America's self-proclaimed equality has given way to unmodernized and regressive attitudes in a time of national crises, one of the times where we as Americans should be the most united. 
On January 28, 2021, 84 year-old Vicha Ratanapakdee in San Francisco was shoved onto the ground and brutally beaten in broad daylight, with the attack having been unprovoked and captured on video.  General Attorney Chesa Boudin described the murder as having been a "temper tantrum." In New York, on March 2, 2021, Teo Ming Soon was punched repeatedly and shoved to the ground. On February 26, 2021, a 36 year-old Asian man was stabbed in Manhattan. And on March 16, in Atlanta, Georgia, a man targeted Asain-owned spas and shot nine people, murdering eight people. 
As several Americans continue to use their frustration from the pandemic as a means to justify physical and verbal assault and microaggressions against all Asians (not just people of Chinese descent, where the first cases of the virus are believed to have been discovered), it is clear that racism continues to flourish in America to this day.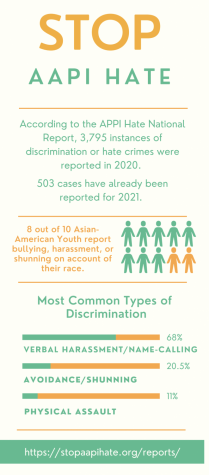 One of the primary reasons why discrimination against Asian-Americans is currently flourishing in America is because of its political backing and its capability to be used as a weapon by politicians to influence the general public. 
Regardless of whether or not it was his intention, former President Donald Trump (as well as many other prominent American politicians) referred to the Coronavirus as the "China Virus" several times on social media and Coronavirus briefings. Although he has since maintained that this term was "technically accurate" in its detailing of the Coronavirus origin, Donald Trump has completely ignored the World Health Organization's guidelines to avoid naming/referring and associating a virus with a particular nationality, ethnicity, or race to avoid stigmatization. Additionally, has also stated that he did not mind that a staff member of the White House called the Coronavirus the "Kung flu," causing hundreds, if not thousands of Americans to adopt this term on social media.
Even though there are numerous federal agencies such as the Equal Employment Opportunity Commison, with the sole role of combatting discrimination (especially during times of a national crises such as the Coronavirus) they are drastically underfunded- ultamitely undermining their capability to help minorites. 
A common argument against the rise of anti-Asian sentiment in America right now is that while there have been numerous incidents of racism displayed across America, physical violence does not compromise its majority. Regardless of whether these attacks are physically violent or they are verbal, or even just casual forms of microaggressions or jokes- these actions are not any less racist, they are not any less unacceptable, or less offensive- they are still dangerous and ignorant. Microaggressions and jokes, though they may seem meaningless to some, they cause great damage to society. These forms of racism have become so prevalent in America, that they are becoming normalized.
For more information and resources visit https://stopaapihate.org/. 
(Infographic) APPI National Report