Putting the "Pep" in Pep Rally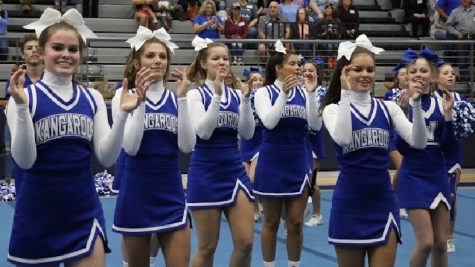 Cheerleaders play an important role within the WHS pep rallies by providing a source of entertainment, enthusiasm, and liveliness, and yet many don't realize how much they do behind the scenes.
"I don't think people really understand everything that goes into cheering, much less all the work they do preparing for pep rallies and decorating the hallways," WHS Principal Dr. Funk said. "There is just so much they do behind the scenes I think it would be hard for people who have never been associated with a cheer team to truly appreciate it all."
Who would be better to tell us all about it than the Varsity & Competition Cheer Coach C. Watson?
"So many of the things that the team does goes unrecognized because it is behind the scenes. For example, the countless hours that they spend practicing all summer, making signs, creating material, fundraising, coaching youth camps, planning pep rallies, and pushing themselves as athletes to represent Weatherford to the best of their ability."
After interviewing multiple members of the cheer team, a pattern began to form in their responses: Each and every one of them enjoyed what they did, no matter how difficult it was.
"My favorite part with my team specifically is the super fun bus rides to away games! As a cheer captain, being a leader means to me trying your best to be the living embodiment of what you want your team to be. Lead by example, work hard, and have fun!" Varsity Cheer Co-Captain Daelyn Bassham said.
The WHS cheer team will be competing at state and nationals again this year, and perhaps this time it is our turn to cheer them on.