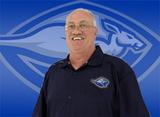 As Weatherford looks forward to the beginning of the 2013 football season, there is plenty of speculation about how the Roos will perform this year under the guidance of new head football coach, Weldon Nelms.  Coach Nelms came to Weatherford ISD from his celebrated program at Wimberley High School, where he won two state championships and countless games. 
            With Nelms' inaugural game as head coach of the Roos happening this evening, the WHS Grass Burr sat down with him to try and get his own take on what makes him an outstanding coach, and what makes this year's program different.
GB:  Where were you before coming to Weatherford?
WN:  I came from Wimberley, Texas, down in the hill country. I was the head coach there for the last 11 years. This is my 34th year as coach, 30th as a head coach.
GB:  Why did you move to Weatherford?
WN:  This was an opportunity; sometimes, an opportunity knocks and you do that, you take it. Weatherford offered me this chance. And I felt it was for the best interest of my family and, so here I am.
GB:  When did you move to Weatherford?
WN:  I came here last February, and finished off the rest of the year. Obviously I brought in new coaches, the ways we do things, the different demands, it's been a real change for the kids.
GB:  Who are the new coaches?
WN:  On Varsity, we have 6 new coaches; Coach Smith, Bolt, Beaty, Dunn, Holt and Fikac. Coach Fikac is offensive coordinator and Smith is the new defensive coordinator. Some coach other stuff, like Coach Holt is the head boy's track and Dunn will help with power lifting. Hopefully it's all for the better and we continue to grow.
GB:  Have you worked with any of the new coaches before?
WN:  Yes. Fikac, Smith, Bolt and Beaty worked with me, and Dunn played for me later on too.
GB:  At Meet the Roos, you mentioned that there will be changes in the football program this year. What kind of changes will you be implementing?
WN:  The football program is only as good as its supporting cast; it starts with students, coaches, community, and of course, fans. It involves a lot of people [and] we can only be successful if everyone feels like they can be part of something.  I want everyone to be in a winning environment, I don't want anyone to take us for granted. As for the team, it's been a new adjustment. We play much faster and with a little higher volume. [Coaches] want the kids to see the sense of intensity; you work out with intensity, you play with intensity, and that's somewhat different to what the kids are used to, but they're adapting with good attitude.
GB:  What is your coaching philosophy?
WN:  It starts with trust. Respect; give it, earn it. The thing about football is that we get to see people grow, mature. Kids have to understand that if anything in life is worth having, you got to work for it. Football is so comparable to the years of laughter and tears of life. Nothing comes easy in life and nothing comes easy on the field. The reality is that on game nights, there are going to be two teams playing and only one is going to win, and we have to learn from losing as well as from winning. But we don't accept mediocrity. Obviously [making] it to 5A play-offs is also our goal, we're not backing down from that. We have lots of challenges but we respect all and fear none.