Book Review: History Is All You Left Me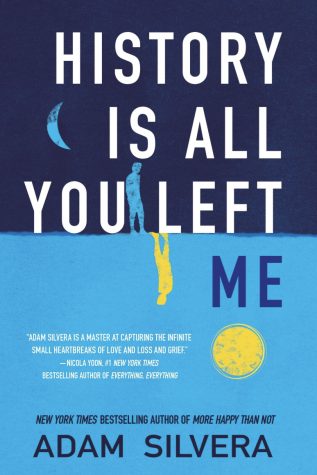 "I'm making history today."
This was only one of Adam Silvera's first sentences in his novel All You Left Me Is History and I was already hooked.
History Is All You Left Me delves into the heartbreaking reality of losing someone. Griffin Jennings, an OCD-afflicted teenager, is forced to face this reality when his best friend and first love, Theo, drowns. But he doesn't face this reality alone; Wade and Jackson, characters who also had profound connections with Theo, are forced to face this reality as well. This novel explores the complex relationship between these three boys as they try and cope with the worst experience of their lives.
One of the most differentiating aspects of this particular novel is that it is told in the perspective of the same character but from different periods of time in his life. Staying true to its title, the novel flips back and forth between "Now" and "History" so that readers are able to understand exactly who Theo was and why he impacted Griffin so much.
Since it is told from the perspective of a naive and much happier Griffin, it was almost physically painful to read some of the "History" sections, knowing what happened to Theo. Every time one of the boys made a mistake with each other, thinking that they had the rest of their lives to fix it, Silvera broke my heart just a bit more.
Admittedly, one of the most common criticisms of this book are its characters. Struck by grief, heartbreak, and pain at such a young age, these boys are candidly realistic. Silvera's blunt representation of these characters, Griffin especially, portraying them at times as unkind, selfish, and just flat out wrong, is genuinely aligned with human nature and depicts the ugly side of grief. Though perhaps many readers might not find it as easy to connect with the characters as I have, as I turned the pages, Griffin gradually became a much better person than he once was, eventually redeeming himself.
Moreover, I might have not agreed with many of the flawed decisions Griffin made throughout this novel, but I was able to understand his reasoning. This was one of the most painful parts of the book, to watch someone veer off onto a destructive path, and know that perhaps if I was in his shoes, I'd do exactly the same.
"People are complicated puzzles, always trying to piece together a complete picture, but sometimes we get it wrong and sometimes we're left unfinished. Sometimes that's for the best. Some pieces can't be forced into a puzzle, or at least they shouldn't be, because they won't make sense."
Lines like this throughout the book are what made me fall in love with Silvera's lyrical type of writing. His way of writing makes every feeling of Griffin's pain and heartache tangible. Silvera has a way of making you feel his writing so that you don't just read it.
Despite the fact that this book was emotionally draining, because it covers profoundly important topics and covers the ugly yet realistic side of human nature, I definitely recommend adding this novel to your summer reading list (as long as you are prepared for a whirlwind of emotions).