Captain Marvel Review
Hang on for a minute...we're trying to find some more stories you might like.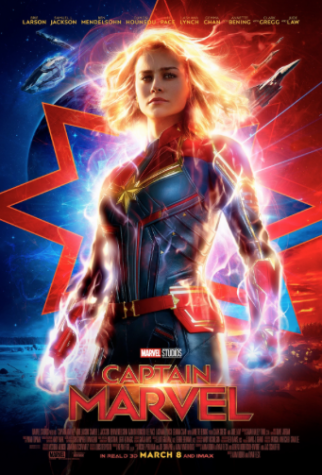 Marvel Studios "Captain Marvel" was released on the weekend of March 8th, and is the 21st installment of the Marvel Cinematic Universe (MCU).
The movie had a fantastic opening weekend, with $155 million domestically and $455 million worldwide. Currently, the movie is at over $939 million worldwide, which makes it more than likely that it will hit $1 billion by the end of the month.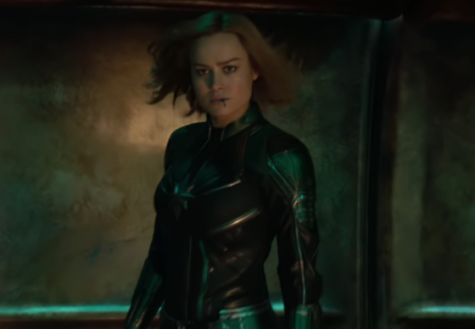 Captain Marvel is about Carol Danvers, a human who is a member of the Starforce, a team of Kree soldiers who travel to every corner of the galaxy warding off an invasive race of shape-shifting aliens called Skrulls. But Carol can't shake the feeling that her past is not what it seems. It's only when she ends up on earth, when pieces of her past start to come together, that her true power is unlocked.
As far as the actual movie itself goes, it was fun, cliche, and empowering. The story could have used a little work and was predictable at some points, but what it lacked in originality, made up for in great acting and seamless CGI effects. And lets not forget about Goose, the "cat" who stole the spotlight!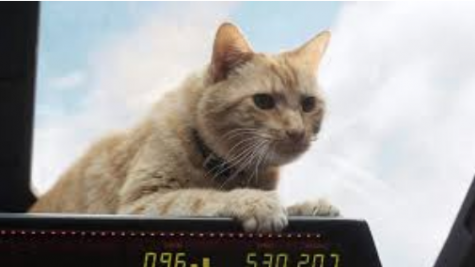 Samuel L. Jackson (Nick Fury), Jude Law (Yon-Rogg), and Ben Mendelsohn (Talos) were some of the best actors in the movie, stealing the spotlight with practically every scene. Sadly, the scenes with exclusively Maria Rambeu and Carol Danvers were sub-par, since they had little to no connection even though they were best friends, and Carol was supposedly dead for 6 years.
Some people were very upset with the movie's lead, Brie Larson, regarding some of the comments she has made about certain types of critics and audiences throughout her career. One of the most recent comments is of her accepting the Crystal Award at the Women in Film Crystal + Lucy Awards last June. There she defended the 2017 movie "A Wrinkle in Time," which was packed full of diverse actors and crew members but failed to impress critics. Larson said "I don't need a 40-year-old white dude to tell me what didn't work about "A Wrinkle in Time." It wasn't made for him! I want to know what it meant to women of color, biracial women, to teen women of color, to teens that are biracial."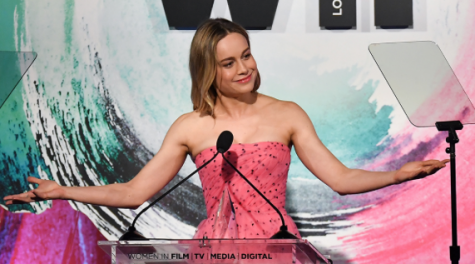 Six months ago, Larson was praised for her barrier breaking acceptance speech, but is now being attacked for the same comments today.
Nevertheless, she kept spreading her message of equality in cinema through her Captain Marvel interviews. "About a year ago, I started paying attention to what my press days looked like and the critics reviewing movies, and noticed it appeared to be overwhelmingly white male," Larson said. "Moving forward, I decided to make sure my press days were more inclusive."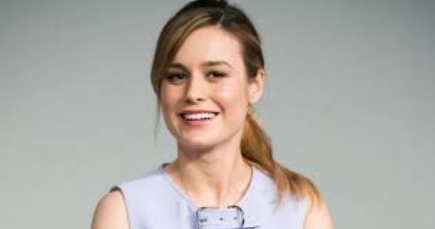 Her comments were translated by a few people as "I hate white men", instead of "I want more diversity".
This turned out to be a big problem for Captain Marvel. When the movie was released in the U.S., the audience reviews for the movie on the popular review site "Rotten Tomatoes" was shockingly low, around 30%. What also was very suspicious was how the movie had almost 58,000 audience reviews at the beginning of opening day. But at the end of the day, the user reviews had jumped back to 4,000. Rotten Tomatoes blames it on a "glitch" in their system, but it's more than likely that they deleted all 54,000 of them, making the audience score rise by only 3%.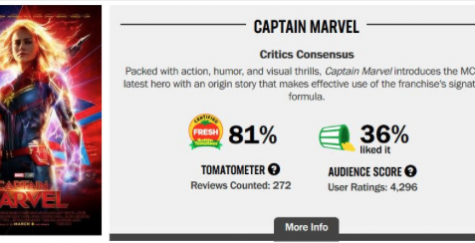 This only made people more angry, stating that the site was paid off to delete all those negative reviews. But the thing is, not all the reviews that were deleted were negative as some were overwhelmingly positive.
But when compared to Marvel Studios barrier-breaking film of 2018, Black Panther, (which came out over a year ago) the site states that there are over 87,000 user reviews as of 3/29/2019, while Captain Marvel had 58,000 before the movie had even hit theaters.This led to speculation that people were leaving reviews on the site even though they had not seen the movie. So, it is more than likely that Rotten Tomatoes were trying to combat a lot of the reviews left by people trying to push their agenda, and not their opinion on the film itself. Because of this, Rotten Tomatoes is now thinking about how to get reviewers to show a proof of purchase before reviewing.
Overall, Captain Marvel was a little lackluster, which actually ended up having more controversy than anything else. Many will continue to argue about whether or not the movie was a success or not, but either way, it is another win for Marvel Studios.