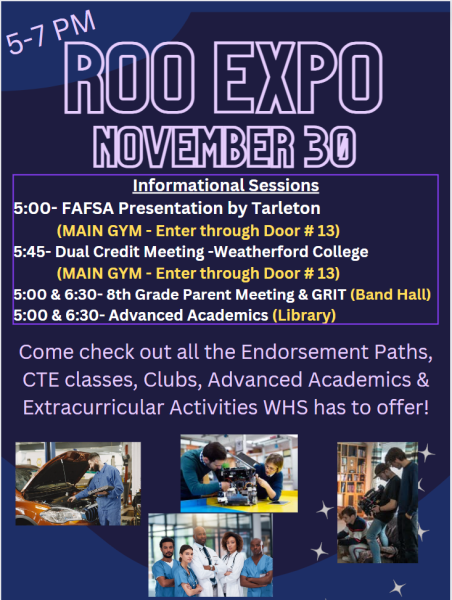 Mark your calendars because WHS will be hosting our annual Roo Expo event on November 30th. It will be held at Weatherford High School from 5:00 PM-7:00 PM.
Roo Expo is a time for your student to learn all about the different endorsement pathways, electives, clubs, and organizations WHS has to offer. Tables will line the main hallways to visit with these different groups.
We will also hold several information sessions.
5:00- FAFSA 
If you need more information about FAFSA, Tarleton will be here to present about FAFSA. Please attend this session in the Main Gym.
5:45- Dual Credit (9th-11th)  
Students who have not taken a Dual Credit course but are interested in taking one next year, please attend this required meeting in the Main Gym.
5:00 & 6:30- Advanced Academics
If you are interested in taking an honors or AP course, please join one of these sessions in the Library.