Staying on Top of College Admissions
A Last-Minute Checklist for Seniors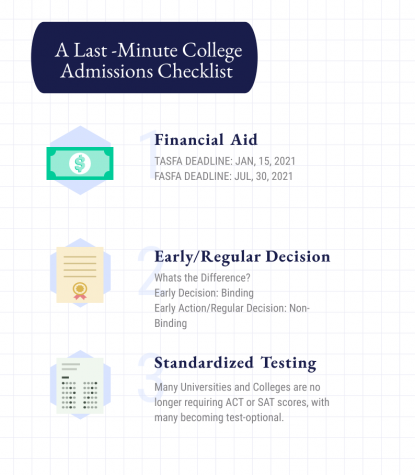 Financial Aid
Many high school students make the mistake of not completing the Free Application for Federal Student Aid or FAFSA, simply because they believe that they will not qualify for any financial aid. However, FAFSA does not only offer free financial aid, but it also allows students to apply to federal student loans that they might need later on. Moreover, many types of financial aid are also awarded on merit, not financial need.
TASFA (Texas Application for Financial Aid) Deadline: January, 15, 2021
FAFSA Deadline: June, 30, 2021
Although these are the official deadlines, it is always best to submit your application as soon as possible. In fact, FAFSA offers financial aid on a first come-first serve basis, so if you submit later closer to the deadline, you run the risk of not receiving as much aid as you potentially could have. 
Another important thing to note is that once you make an account for FAFSA, it takes 1-3 days for them to verify your information so plan accordingly. Additionally, in most cases, parents must sign the form electronically, meaning that they too will require their own account.  Lastly, it is important to ensure that you give yourself enough time to gather all necessary tax and other financial documents (for yourself if applicable and your parents) to accurately answer all of their questions. 
Early Decision/Action & Regular Decision
One of the most important things to note about when deciding to apply is that Early Decision is a binding agreement. This means that if accepted, applicants must attend that school and will need to withdraw any other applications to other colleges. While choosing to apply to Early Decision may have its advantages (such as first pick at housing and demonstrating clear interest to admission officers), it is an option that should only be reserved if you are truly sure of your decision. Please also keep in mind that when choosing Early Decision, students will not have the option to review competing college's financial aid offers, meaning they will have to accept whatever financial aid package they receive from their binding school. 
For applicants who want the benefits of Early Decision, but are still not ready to fully commit themselves to a college just yet, Early Action is the way to go. Essentially, Early Action permits students to receive Early responses without commitment and while maintaining the customary enrollment deadline. 
Regular Decision, which offers later deadlines and later admissions responses is also the most customary option. However, please keep in mind that for many universities and colleges, scholarship priority deadlines end before their Regular Decision deadlines. It is essential to research these individual deadlines for each university you plan on applying to and if possible, apply before the actual Regular Decision deadlines just in case. 
Standardized Testing: ACT/SAT
Regardless of the fact that many universities and colleges have become test-optional it is still a good idea to make time to research the universities you are applying to, and consider testing if it is beneficial (and if you can). This shift towards test-optional also does not mean that schools are shifting towards test-blind as well, meaning that ultimately, standardized tests scores could play a role in your admission should you choose to submit them. Moreover, many scholarships still require standardized test scores. 
For seniors, the upcoming SAT and ACT testing dates and sites are running out for any December and January application deadlines. However, for later deadline admissions for February and March, there are still testing options available, but make sure to sign up for seats as soon as possible!