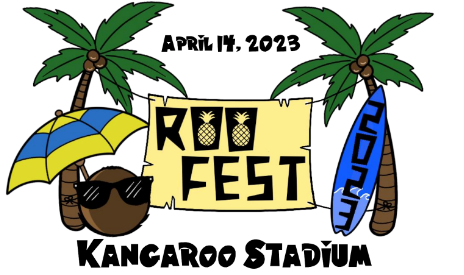 Hello!  Thank you for volunteering your team/organization to help at RooFest this year.  RooFest is such an amazing experience and our students have an amazing day because of the hard work of our volunteers, especially our student volunteers who run stations and sometimes travel with specific students.
RooFest begins at 9am.  All volunteers need to arrive at Roo Stadium by 7:45am to ensure their stations are set up and ready prior to students arriving at 8:30am.
RooFest Schedule
6:30 am-Roo Stadium opens for set up
7:45am-Volunteers check in with their sponsor/coach and stations set up
8:30-9:00 am-Student groups will be assigned  a campus to greet, escort to the field, and hang out with prior to events beginning
8:55am-National Anthem-RooFest Kick Off
9am-12pm–Roo Fest events take place
12-12:30pm–All stations broken down and put away at Roo Stadium; volunteers check out with their sponsor/coach
1:00pm–All student volunteers should return to campus
Sponsor/coach will submit attendance sheet to attendance office upon returning to campus
Each volunteer group will be assigned a specific activity to facilitate for our students.
Special Programs will also have a staff member assigned to the station, but may rotate between two.
Volunteer Group Student Expectations
Engage with students

Stay off of cell phones

Make the station fun

Stay at the station for the duration of the event

 If the sponsor/coach would like to schedule and manage breaks that is okay
Checklist for Sponsor/Coach
All student lists need to be approved by campus principal by

March 24, 2023

Once approved by the campus principal; student lists need to be sent to the attendance clerk for coding by

April 6, 2023.
In order for a student to volunteer at RooFest the following criteria must be met:
Target 12th grade students

No failing grades; in good academic standing

Less than 3 unexcused absences

Student is a hard-worker and stays on task

Target students who are most likely to engage with our athletes in a positive, age appropriate manner