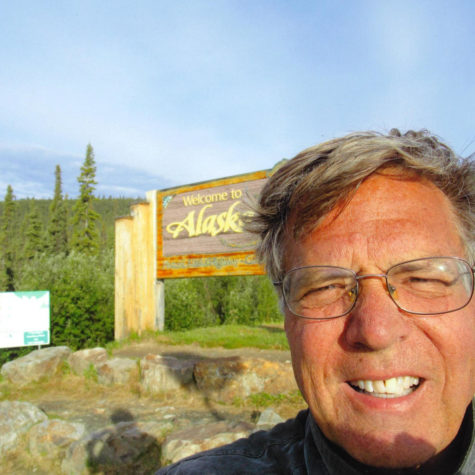 Beloved teacher Charles Frederikson has been teaching for the past 22 years, currently in the subject of computer animation. He takes pride in recognizing that one of the greatest advantages of instructing students is sincerely listening to them, as a good mentor should. Having spent the majority of his life in a classroom, he recently felt the urge to achieve higher learning in a different way, with an experience in a place he'd never been before. 
       He had already visited almost every state in the U.S., but there was just one that always seemed out of reach.
Over six weeks and 11,000 miles, Frederikson traveled to Alaska. Alone. His wife, who he described as "not the outdoors type," told him that he needed four things to make this trip: money, health, time, and a way to get there.
    "I had all of those things," stated Frederikson. 
As for a vehicle, he drove the whole way with the top of his Jeep down, across states and provincial parks in Canada. With $1,500 in his pocket, $2000 in Canadian currency, he stayed in hotels and state parks, cleaning his clothes with a mobile washing machine. He drove in a heavy hail storm from Colorado in Wyoming, which was the only time the entirety of his car was covered. He took the Southern route to Alaska, though his biggest regret was not seeing more of the Arctic Ocean.
    When he arrived in Alaska, he spent three or four days in Fairbanks, after stopping in Anchorage and Denali. There he saw bears, goats, wild horses, caribou, moose, elk, and was warned to beware of wolves. He was told they were everywhere and traveled in packs. 
      However, Frederickson promised that "the most frightening thing was the cold, as moose even leaned up against houses for warmth."
His favorite memory of the journey was driving eastward down the Top of the World Highway. He described it as "the most beautiful road I'd ever been on." He recalled seeing above the treeline and the rolling hills. He also fondly remembers a tiny village in Alaska called Chicken, which had a population of 12, and a blistering temperature of 50-below.
      Journeying back, he crossed Dawson, the Yukon River by ferry, British Columbia, and Hyder glaciers. He learned that in Canadian small towns, most people bike everywhere, most tourists come from Texas, there are no pennies, and cherry farmers use helicopters to dry out their orchards.
      Though he wishes to have met some polar bears, Frederikson considers this experience to have been one of the best of his life. 
He plans to spend another six weeks in Eastern Canada in the summer now that his retirement from education is official. 
Frederickson's sincere teaching philosophy will endure after his departure from WHS, as the impression he made on his students is something you rarely see.
We wish him well on his future adventures.