A Teacher to Remember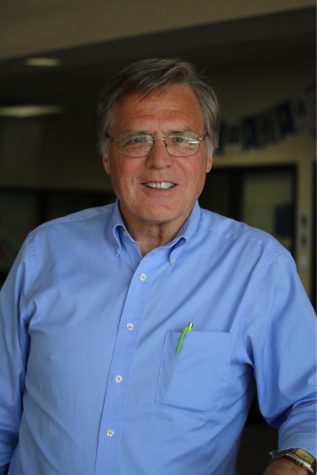 Teaching, without a doubt, is one of the most impactful professions in our society. For this reason, every single high school student has had one teacher they never forgot- perhaps a teacher that pushed them out of their comfort zone, a teacher who instantly brightened their day, or a teacher who made a difference in their life.
For many students at WHS, the teacher they never forgot is the Computer Animations teacher, and 2018-2019 WHS teacher of the year recipient, Mr. Fredrikson.
Mr. Fredrikson's pathway to becoming a teacher was untraditional, but has a major part in shaping him into the extraordinary teacher he has become today. After attaining a Master's in Business Administration and spending many successful years working for major corporations, he suddenly felt the need to change his career, leading him to turn to teaching.
"You will find that as you go through life you may change careers, leading to many wonderful opportunities," Fredrikson said. "It's how I began teaching, and is what led me to live a more significant life now that I deal with the future of young lives instead of the future of money."
One of the most noteworthy examples of how Mr. Fredrikson goes above and beyond in his classroom is his appreciation for student feedback. Instead of limiting his role to just teaching, he is eager to learn about what his students can teach him in order to improve his teaching methods. In fact, he credits the "diverse range of student personalities, from extroverts to introverts" for helping him become "a better teacher to the various types of students."
In an era defined by technology, Mr. Fredrikson embraces the evolving value it has on education instead of casting it away for more traditional methods of teaching. This allows his to instill a genuine desire for learning in his classroom.
"I really value [my student's] knowledge and background in technology and consider them an asset in the classroom," Fredrikson said.
Another reason Mr. Fredrikson leaves such a profound impact on his students, is because he encourages his students to build character. Oftentimes, the most memorable teachers are not defined by the academic performance of their students. Instead, those teachers are the ones who guide their students to become the best possible versions of themselves by building character.
"I really admire Mr. Fredrikson for his kindness, generosity, and passion for teaching. He has inspired every single one of his students, including myself, to push ourselves to become better people," sophomore Trent Cruickshank said.
Us students will grow older and eventually leave school, but the impacts Mr. Fredrikson has made on this school will never be forgotten.
If there was one thing Mr. Fredrikson wished all students knew it would be this: "Treat others just like you would want to be treated and you will be amazed how much further your education will take you."