Club Spotlight: GSA
Hang on for a minute...we're trying to find some more stories you might like.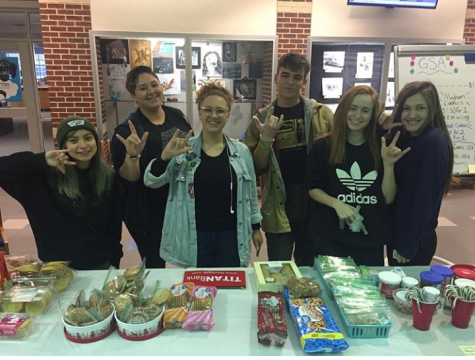 Many teens in the LGBT+ (Lesbian Gay Bisexual Transgender) community struggle to deal with the bullying, harassment, and assault that they receive from the people around them on a daily basis, causing these teens to sometimes feel that they are alone and have no one to support them. Here at WHS two students came together and decided to implement change in order to give those teens a safe place; thus, these students decided that this school needed a Gay-Straight Alliance(GSA) Club. The set up of this club allows many students to know that they have support from other students and staff members at WHS.  
"GSA is first and foremost about acceptance for anyone, LGBT+ or not,"  junior Colby O'cannon said. "To me personally, GSA is my family away from home."
GSA gives an opportunity to educate and to advocate for their community, not just for the LGBT+, but for everyone who supports them. It's a place for them to feel accepted and allow them to open up and be themselves around others.
"[I] most definitely [feel open and accepted in this club]! As a new student this club accepted me with open arms," an anonymous club member said.
Whether a student is new at the High School or have been here for four years, feeling accepted is the most important reason why this school has a GSA. GSA influences students to stand up against the bullies and stand proud of who they are. Students have someone to stand with them and depend on when they are feeling alone.  
"This club means so much to me because I know I can depend on everyone in here," an anonymous club member said.
GSA isn't just about providing support for the LGBT+ community; it's also works to promote justice with race and gender by spreading awareness for equality for everyone and trying to make it where all students can feel safe to come to school.
"[This club is about] acceptance, warmth, and unity," Alex Ramirez said. "[It's also about] bridging the gap between LGBTQ+ kids and cishet kids."
The GSA inspires students to know that they have teachers, counselors, and administrative members who stand with them and they can talk to make them feel safe. Having a GSA is truly a great addition to the WHS campus. Meetings are every Friday during A Block. Everyone is welcome.
"GSA has positively impacted so many lives at WHS! Many students have said that they feel supported and feel safer now that there's a GSA. Students have cried because they've never felt accepted until they had GSA or they've never met anyone that understands what they're going through," Mrs. Tillis-White said. "One of our students said GSA was the highlight of his week, every week. New friendships have been formed from GSA and now our students are trying to make positive changes on campus and the community."