Senior Spotlight: Tammy Wilson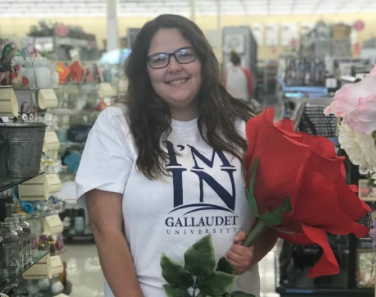 Hang on for a minute...we're trying to find some more stories you might like.
Q: How do you feel about graduating High School?
A: I feel good and I'm ready. I am super excited to graduate; I worked very hard to get here.
Q: What was your reaction when you got accepted into Gallaudet University?
A: I was at work when I got the email. I was so proud of myself and me and my co-worker did a happy dance and I called my mom and we cried on the phone and then after work, I called like 100 different people because it was a dream come true!
Q: Are you ready to go off to college?
A: Yes and no! I'm ready to go in the world and seek new adventures, but at the same time I'm a bit scared to go so far. But again I believe I am ready. Yes it will be hard at times but I have overcome many obstacles to get here as a senior, so surely I can tackle a few more.
Q: What was your biggest accomplishment in high school?
A: My biggest accomplishment is to have all my friends around me and supporting each other. In elementary school, I was very shy and only had a few friends now I'm friends with a lot of people and it's just amazing to have great people around me!
Q: What do you hope to accomplish after high school?
A: I hope to accomplish the world as a whole. I hope I can get my master of education and travel the world but more importantly I want to come back and teach deaf kids.
Q: Why did you choose Gallaudet?
A: I chose Gallaudet because I will finally be fully immersed in the deaf culture and I will finally be getting an education and society lifestyle without any communication barriers because everyone there speaks sign language.
Q: How do you feel about leaving the state?
A: I am definitely nervous!!! I am born and raised in Texas and always been in the DFW area. So to leave halfway across the country- over 1,000 Miles (!)- is very nerve racking and is definitely making me grow up. And I will miss my family and friends.
Q: Any word of advice to incoming seniors?
A: Seniors, don't take your last year for granted. It's gonna go and be gone before you even see it happen. I would encourage you to get involved, join a club, sign up for Roo Crew, and make memories.