Are AP Classes Worth the Effort?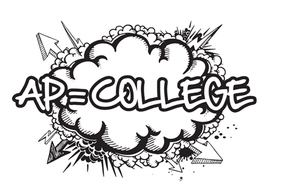 Weatherford High School offers several Advanced Placement courses available to both Junior and Senior students, which provide many benefits for the students' futures. If the students are successful in this undergraduate-like environment, it will build essential college skills, stand out to university admissions while adding substance to applications, earn college credit, and allow the students to skip introductory classes.
While AP classes are very rewarding, they require strenuous work fulfilled in the classroom along with excessive hours of mind-numbing homework. Junior, Anna Long enrolled in five AP classes and one Pre-AP class; she stated she spends, "five to six hours each week night and most of [her] weekends doing homework." This can be very tiresome for a student expected to give 110% in all eight classes in addition to extracurricular activities. A lot of students, regularly attend church, are expected to share time with their families, attempt to maintain a healthy duration of sleep, and are invited to social events. How can students enrolled in many AP classes possibly balance their responsibilities while stressing about college transcripts/admissions?
"You have to set your priorities and realize that your social life may have to be forfeited for your academics because academics are the most important thing. But with time management and scheduling, it is most definitely possible to be in five AP classes and have a great social life," said Junior Sophie Pasternak, also in five AP classes as well as captain of the Blue Belles, "for instance, I do all of my weekend homework on Saturday so I can go to church and Sunday school."
Between endless amounts of reading and countless number of essays, there are plenty of helpful strategies that guide students to stay on top of their tasks and maintain an acceptable grade in AP classes.
"Sophie and I both have a planner to write down all of our assignments in, and we don't procrastinate. We also use Quizlet for flash-cards and practice tests and we quiz each other whenever we get the chance," Long said.
The decision to be in AP classes is tough because the hectic worth ethic is simply not for everyone. However, if you are up for a challenge that will be worth it in the long run, then you should definitely consider Advanced Placement.
"I absolutely recommend it but it is a lot of work. To be successful in AP classes, you must be willing to sacrifice things." Pasternak adds.
Overall, Advanced Placement classes are much more than stressful nights of studying and constantly being tired, the accumulated amount of advantages it provides is uncanny and can save money on tuition, gain flexibility in college, and increase your chances for college-specific merit aid. The positive certainly outweighs the negative facts regarding Advance Placement courses which is the reasoning behind why each and every Junior/Senior student should contemplate enrolling in at least one AP course next fall.