Victory after victory, the Lady Roos have dominated this season. Their final district match with Boswell resulted in not only a 3-1 victory, but it also secured their title as the undefeated District Champions.
This marks the first undefeated district championship in Weatherford High School's history.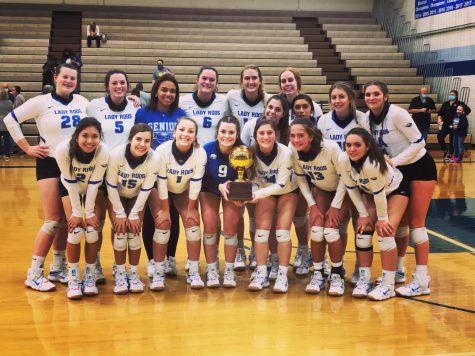 "I was extremely grateful to even get to play this season because of the pandemic, but I was even more excited to become the first team to be named undefeated champs in school history," senior Lynsey Lee said. 
Following this victory, the Lady Roos were also recognized by the Texas Girls Coaches Association as the sixth best team in the state, in the 6A category. Senior players Abbie Lane (#6), Kayleigh Bateman (#25), Logan Loran (#11), and Lynsey Lee (#5) were also nominated and selected for the Academic All-state team, which requires excellent academic and athletic performance.
After winning the district championship, the Lady Roos advanced to play-offs. During play-offs, they secured wins against Keller (3-1) and Midland (3-2) to advance past Bi-district and Area, and all the way to the Regional Quarterfinals. Despite a great performance from the Lady Roos, the match against V.R. Eaton resulted in a 3-1 loss. 
The Lady Roos finished with a season record of 23-3.