Student Spotlight: Ashley Carlisle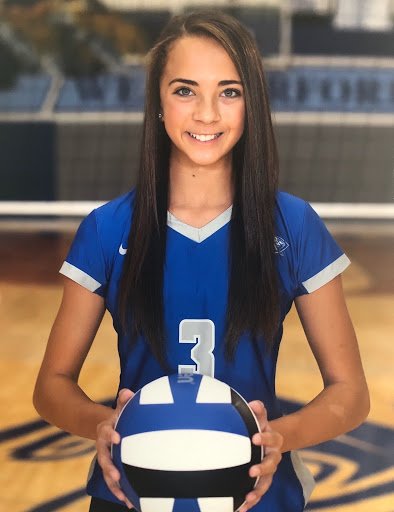 Sophomore, Ashley Carlisle was born in Fort Hood, Texas on July 8th, 2004. In 2008, her family moved to Weatherford where she eventually found her love for volleyball, track, and cross country.
Ashley took part in her first race when she was just five years old in kindergarten, competing in the Coyote Chase Race hosted by Weatherford College. In second grade, she won first place in her age group and went on to win the entire race in later years. She participated in this race every year up until seventh grade. Not only did she continue to run in the Coyote Chase Race in middle school, she also ran with Mach 1, a track and cross country club in Weatherford, the summer before her seventh grade year, which is when she began balancing both track and volleyball.
Along with having been in community ed volleyball since second grade and in club volleyball since fifth grade, Ashley joined the Tison Middle School track team in seventh grade and made A team volleyball the same year. Unfortunately for the track team, she quit track her eighth grade year but continued volleyball and won many awards for both track and volleyball in middle school overall.
Freshman year, Ashley decided she just couldn't live without both of her favorite sports so she joined track yet again, making it onto the JV team. She also continued with club volleyball, and made Freshman A team volleyball here at Weatherford High School.
Although both sports are top priorities for Ashley, it is not at all easy for this triple threat athlete to keep u
p with everything year round. In the fall she has to make time for both cross country and school volleyball and in the spring she juggles track and club volleyball.
"It is a challenge sometimes and I had to learn how to manage my time. With missing school for volleyball games and meets, I have to stay on top of my school work and get things done." Ashley said about managing both sports along with school.
Fortunately, getting to her practices is the easiest part, with cross country practices being in the morning before school, and volleyball after school. In many of these long, difficult practices, she has noticed that running and volleyball coincide with one another.
"Cross country and track helped me physically with volleyball. They put me in better shape and I could move better on the court. Volleyball helped me with the mental toughness you need while running." Ashley said.
Ashley is still involved in JV volleyball, varsity track and, as of this year, varsity cross country. She has gotten multiple aw
ards while in high school including winning first place in the 800 meter race two separate times, one being at the district meet last year. She is also involved in all Pre AP classes, managing to keep straight A's in all of them, and plans to go into the medical field after high school.
"I'm grateful for the opportunity to do cross country, track, and volleyball and for the support I receive from my coaches, teammates, and parents." Ashley said.