Alli's Book Nook: The Witch Doesn't Burn in This One
Every month Alli will be exploring a new comer of the world found in the dogeared pages of books. Through her journeys she will share with you the unlikely friends she meets, places she visits, and the emotions that those stories evoke. In this story, Alli presents a simply spooky stimulation of a woman's mind.
Hang on for a minute...we're trying to find some more stories you might like.
The Witch Doesn't Burn in This One by Amanda Lovelace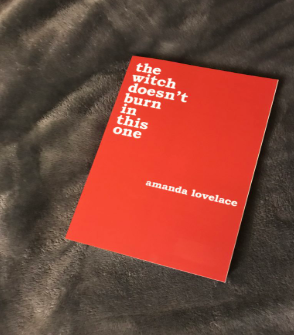 The witch: supernaturally powerful, inscrutable, independent, and now—indestructible. These moving, relatable poems encourage resilience and embolden women to take control of their own stories. Enemies try to judge, oppress, and marginalize her, however "the witch doesn't burn in this one." Amanda Lovelace is an American poet who focuses on female empowerment, and the other books in her series have very few differences in the way her ideas are presented. Every single poem will have you either crying and/or screaming at the top of your lungs. Her century-family-fueled hatred is raging through these poems and specifically into the hearts of young women all around the world.
Lovelace uses powerful metaphors of matchboys and compares situations, including those of feminine problems, sexual assault, and the torturous nature of love in an abusive relationships to instill rage, followed by an intuitive look at the pain women face, and the need for power into her readers. Lovelace also uses her platform to compare women as being witches as well as the physical forces of nature. Her message is a deep cry for the need for women to love themselves in every single way possible and to realize their own self-worth.
This book is filled to the brim with the overall conflict and compromise of love and hatred at the same time and will forever be one of my personal favorites. Never have I found a book that captures a societal view so completely and the way that women are treated by men and the abusers they once called the person they love. I look forward to the next release in the series Lovelace is writing; whatever the topics may include I'm always sure that she will deeply connect with her readers.
Amanda Lovelace has and always will be both a force of power and a voice of reason in the world of poetry. I recommend it to society as a whole as a learning experience on how a minor part of a woman's brain works. Lovelace is resilient in her writing ways and does not show any signs of slowing down anytime soon.
"I am not the one who has to change the way I think or the way I act. They are."
― Amanda Lovelace, The Witch Doesn't Burn In This One