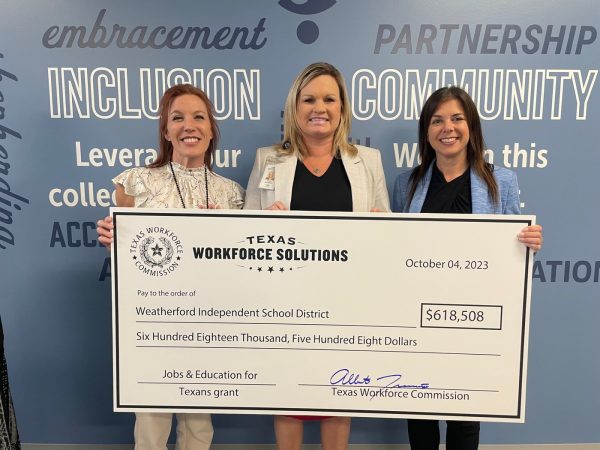 From Weatherford Democrat "AUSTIN — Weatherford ISD's Career & Technical Education Program (CTE) was the recent beneficiary of more than $618,000 in Jobs and Education for Texans grants awarded to North Texas Schools through the Texas Workforce Commission.
WISD received a total of three grants: $337,354 to train 298 students as first-line supervisors of mechanics in partnership with Weatherford College; $151,813 to train 225 students as bus and truck mechanics in partnership with WC; and $129,341 to train 647 students as food service managers in partnership with the college.
"The State of Texas continues to provide pathways toward good-paying careers for hardworking Texans by investing in meaningful educational opportunities for our students," said Gov. Greg Abbott. "It is more important than ever that Texas students have the tools and training needed in high-demand industries that will keep Texas the No. 1 economy in America. I thank the Texas Workforce Commission and these partnering schools for their work to build an even brighter future for our state and for young Texans."
The JET grants will support career and technical education training programs by helping the schools purchase and install equipment to initially train over 1,200 students for high-demand occupations, including mechanical engineers, bus and truck mechanics, and food service managers.
"Thousands of Texans will have access to better career training resources in North Central Texas," said TWC Chairman Bryan Daniel. "These JET grants support a skilled workforce that both serves and energizes the continued growth of Texas' economy."
Through funding provided by the Texas Legislature each biennium, TWC uses JET grants to defray start-up costs to develop career and technical education programs for the public community, state and technical colleges, school districts, and charter schools. Equipment funded through JET grants must be used to train students for jobs in high-demand occupations."
In attendance at the Jet Grant Big Check Presentation were Mrs. Stueart, Principal of the Grizzard Regional Institute of Technology (GRIT), Dr. Donaghey, Assistant Superintendent of Student Services, and Mrs. McCune, CTE Coordinator.