Making a Mark at the Heart of WHS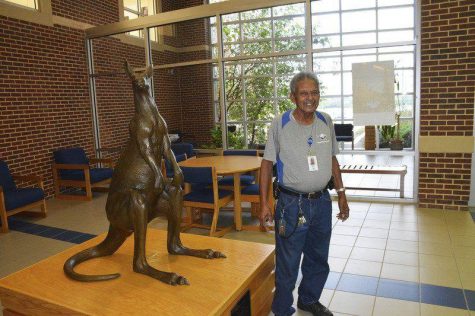 Edward Wiltz was a child when he got the nickname "PeeWee" because of his size, and it stuck with him ever since. He's been working with WISD for the past 20 years, but sadly to many of the WHS students and staff, PeeWee is retiring this year.
The students and PeeWee share a mutual respect as they greet each other with high fives. PeeWee said when the kids thought he would retire, they all ran up to him crying. He has left an undeniable impact on students' lives.
"I will miss seeing his kind face and seeing him at lunch everyday," junior Alli Williams said.
He does his work without any hesitation. He is always talking to other students. He crack jokes with them and knows how to make them laugh. He has a smile on his face no matter what. He takes pride in his work and rarely misses any days.
"He is such a sweet person and he is so happy all the time," Williams said.
Many students here enjoy having PeeWee around and will miss his warm presence. He brings joy and happiness to others around him. Not only do the student cherish PeeWee being around but teachers do as well. PeeWee is a great man at heart and has positive vibes around him.
He will be missed dearly by the students and staff at WHS as he faces his next chapter in life. He has left his mark here with all of us.