The Yellow Wallpaper Breathes Life on Stage
Hang on for a minute...we're trying to find some more stories you might like.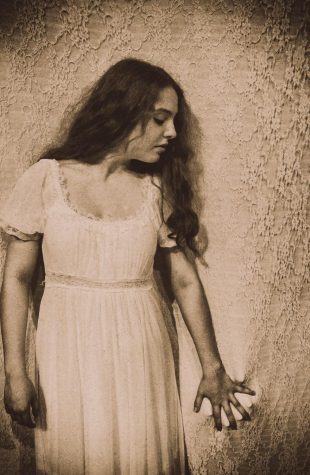 The curtain is drawn, the lights dim, and places are called. The cast, anxious and eager, walk with purpose across the stage. This is the moment nearly 6 months of rehearsal and dedication has led to. Before the show begins, a single thought races through the minds of the cast and crew: We will fight for you, Charlotte, as you have fought for us.
The Yellow Wallpaper is a one-act play based on Charlotte Perkins Gilman's 1892 short story of the same name. The play and short story tell the story of a woman suffering from postpartum depression and psychosis who undergoes a "rest treatment" advised by her doctor and her husband, who is also a physician. As the story progresses and the protagonist's mental state digresses she begins to see figures in the wallpaper, representing the oppression of women and the barriers of mental illness, until it is herself that she sees-and frees- from the wallpaper.
"My favorite memory of our show is getting to read the script at the beginning of the whole process, and getting to relive Charlotte's story for the very first time," senior Taylor Fite said. "It gave me such chills."
Gilman's story was based on her own experience of postpartum depression and the rest treatment that she survived. After it was initially published, countless eyes were opened to the sickening treatment of the mentally ill, including Gilman's own doctor.
"I think [Charlotte Perkins Gilman] wanted to bring to light the oppression she and other women endured; now the message remains the same," senior Hayley Vantine said.
In Shanna Elizabeth Klutts' script, the short story is brought to life. For the cast, crew, and directors of the One Act Production class, this idea of creating change through a story served as a central purpose.
"We have to teach people the consequences of our actions," Fite said. "It's important to know where we are from where we've been, and where we can go from here."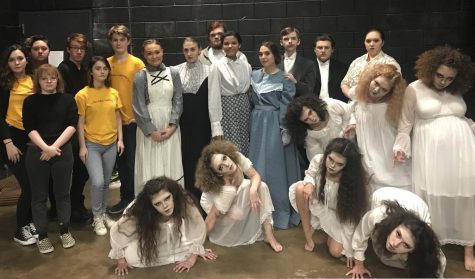 On March 20th, during Women's History Month, the WHS One Act Theatre Troupe competed at their District competition. Blood, sweat, and tears were-quite literally- poured on the stage as the cast and crew displayed Charlotte's suffering, fight, and freedom.
"In this day and age we are the freest we've ever been, and this play has helped me realize the weight of that," sophomore Kaitlyn Peacock said. "I would want [Gilman] to know that she saved women with her story and will continue to do so throughout history."
Progress has been by the sacrifices of those who came before, like Gilman, yet we also must realize all that is still left to be done. Though this is merely a high school show, the production of The Yellow Wallpaper worked to bring visibility to the ongoing struggle of mental illness and societal oppression-both still prevalent in the modern world.
"There's this societal standard these days that your mental illness should be left unspoken about, or else you are seeking attention, but no one should suffer alone because of them being too scared that they will be shut down," sophomore Audrey Randall said. "That's why it is especially important to tell Charlotte's story, even today. We must hear each other out, instead of belittle the struggles our peers face, much like how Charlotte was ignored even though she begged for better treatment."
Today over 100 years since Gilman's story was first published, students are still studying it in classrooms and now even watching it on stage. Yet what makes this story still so riveting and relevant as it was in 1892?
"Although the story is set in a different time period, the issues addressed are still important to our society today. It is very important to understand the suffering of women in the past so that we don't allow it to happen again," Vantine said.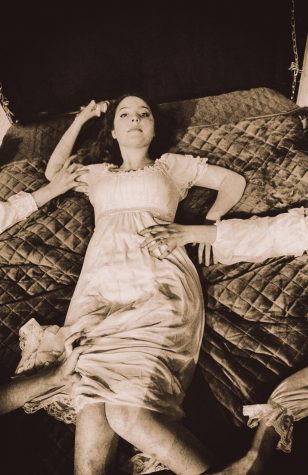 Many share the experience of the stigma against mental illness and the inability to receive proper treatment. When Gilman was first diagnosed, she herself was ordered to "never to touch pen, brush, or pencil again" for as long as she lived. With brutal honesty, the play reflects Gilman's own experience with mental illness, an experience that 1 in 5 teens with mental disorders share.
"We were able to show the effects one goes through suffering from a mental illness and how it affects their loved ones," senior Danielle Yokley said. "Our show hopefully opened up conversation on how to help someone suffering and how to look for the signs."
Everyone in this production had their own reason for fighting for Charlotte on stage. Even so, Gilman's personal story serves as an example of a person who was able to escape a situation of oppression and find a fulfilled life after healing from her mental illness as she went on to become a poet, activist, and feminist author.  
"I believe that this play is still relevant because so many people are still so ignorant to mental illness," senior Katie Parks said. "Charlotte's story is important for us to tell to this day because no one should be left to suffer alone. We have to break the stigma around ALL mental illnesses."
Although this is a story about a woman in the 19th century struggling with postpartum depression, there is a universality in her story told on the WHS stage. Whether you write to find an escape with words, are trapped in an emotional or physical abusive relationship, feel completely hopeless or even helpless, or fight with everything in you for another day, Charlotte's story is the story of us all.
"I full heartedly believe this story is important to tell today because though it was set in the 1890s, it is timeless," junior Bre Sarslow said. "In Charlotte's case, it was postpartum depression, but all in all, all it was oppression, and that is something that happens to people every single day… I think that Charlotte's story does such a wonderful job showing that."
Charlotte Perkins Gilman once said that her short story "was not intended to drive people crazy, but to save people from being driven crazy, and it worked." Stories, whether on paper or on stage, have the ability to save: when we have the courage to share them, we can escape our own yellow wallpaper.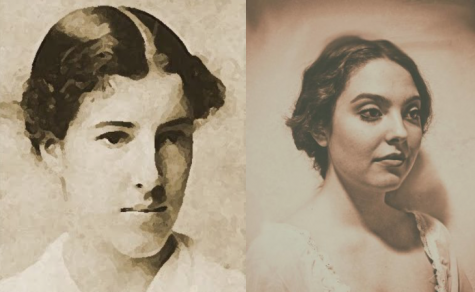 "If I could tell Charlotte one thing, it would be thank you. Thank you for sharing her story and for letting every other person on this earth know that they are not alone," Sarslow said, while senior Sydney Williams added, "I would tell her that she's not alone, that I understand and that it does get better."
Photos by Bre Sarslow