Lady Roo Wrestlers Winning On And Off The Mat
Hang on for a minute...we're trying to find some more stories you might like.
WHS has several extracurricular activities, but especially take pride in our state ranked WHS Lady Roo Wrestling team. Wrestling not only one of the roughest, toughest sport but it is also the oldest. Being a WHS wrestler requires blood sweat and tears, pushing the wrestlers' mental capacity and physical capabilities to maximum overdrive.

WHS Lady Roo wrestlers work intensely: every morning waking up at the crack of dawn and waiting until the late afternoon to head home. They challenge themselves to reap the benefits. After all the long practice hours and the constant conditioning, the Lady Roo Wrestlers get a taste of victory and it becomes addictive.

"My favorite part about wrestling is when the [referee] raises my hand after a match," said junior Sydney Fenus.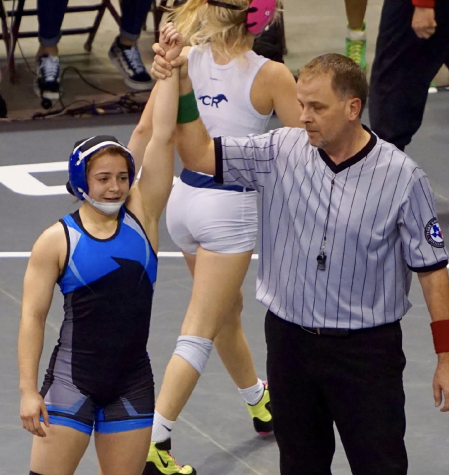 The Lady Roo Wrestlers are all motivated by different things for different reasons, but the majority of the team believes it's team prayer before every tournament that paves the road for victory.

"The motivation that keeps me going in every long practice and every tough 3rd period match is my faith in God. He gets me through difficult tasks and often with a smile," said sophomore and first-year wrestler Shelby Gilley.

Every day the WHS wrestlers are striving to reach their goals, some have long-term goals than others, but they continue to reach them.

"My goal would be to get a scholarship and continuing wrestling through college," said sophomore and state qualifier Camille Fournier.

For new wrestlers, it can be hard to adapt to the learning curve of the sport. Not only learning the actual moves but wrestling is one of the only sports where you absolutely have to pull your own weight or the downfall of the team could potentially be in your hands. "Busting weight" is a term wrestlers often use when someone doesn't weight what they need to in order to wrestle in a certain weight division. Which causes the wrestler to scratch and hurts the team. However as hard and as difficult as the sport is, our Lady Roo Wrestlers are getting results. By being encouraging towards one another and always welcoming newcomers to try the sport it's no wonder our girls are ranked 6th in Texas.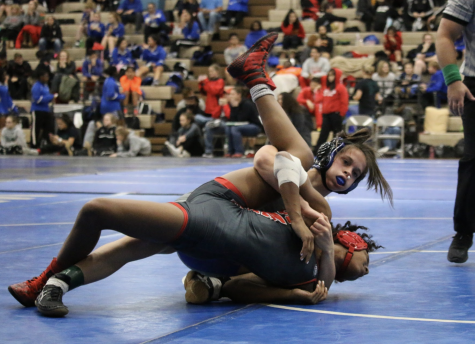 The girls have kind hearts that build each other up and helps the team perform- that is the secret to this madness. Being a wrestler strengthens you both as a person and as an athlete and this is clear to the Lady Roo wrestlers.

"I've grown as an athlete because the extremely difficult morning practices that have helped build mental discipline and physical endurance," said Freshman Karissa Pratt, while Katelynn Snyder-Jones said, "I'd say to anyone thinking of joining wrestling, that it's a really fun sport and it builds you better as a person."

From the newest Freshman members to the most experienced wrestlers on the WHS Lady Roo wrestling team, the team is a tight-knit group of girls.
"I felt welcomed as soon as I walked through the door, wrestling has been my favorite part about this year," said freshman Sydney Baker.

All great teams need a great leader. The WHS Lady Roo wrestling captain is Genevieve Jackson, a junior at WHS who takes her leadership role on the team as a way to not only motivate herself but helps hold up the team as a whole.

"I've learned to try to have a positive outlook to help those around me that are struggling sometimes because I know it gets difficult, not just in wrestling but in life too, and they need someone there to help them," said Jackson.

The Lady Roo wrestlers are trained and ready to go, as they head into the upcoming district meet. They are more than prepared to be on the road to conquer state this year, together as a team. It's been a long journey but the Lady Roo Wrestlers are going to try to bring home the state trophy and try they will.