School response to COVID-19
COVID-19, is the biggest pandemic since the 1918 influenza outbreak. It has drastically changed how we live, shop, and interact with others. With over 200,000 deaths, and almost 7 million cases in the US, it's vital to make sure that students are protected and healthy. After schools shut down in March it was known that they won't be closed forever. Eventually, schools would have to open up and be safe for the students to return. With this in mind, our school has made some drastic changes to ensure that the campus is prepared to combat and reduce the spread. Many of these changes are obvious to students, others may not be so clear, but they all are having a part in protecting students.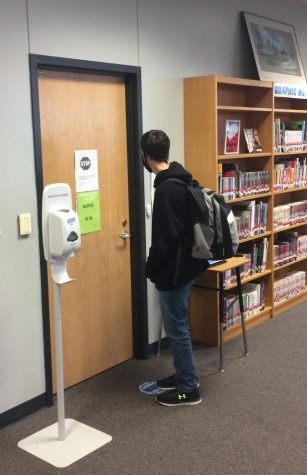 Around campus are multiple stands with hand sanitizer in the halls, dividers in and around the cafeteria to have a barrier between students while they eat without their masks, and of course the mask requirement to keep students from spreading COVID-19. The school has also set up a KangaCare for students to get tested for COVID-19 quickly and safely. KangaCare has been set up with the nurse's clinic which was moved to G219, in the library. The office and nurses are also conducting "contact tracing" where they trace students who may have had contact with an individual who tested positive for COVID-19. The whole process is quick, taking less than two hours at most.
Students and faculty have had their own opinions about the school's precautions against COVID-19. Many students are disregarding the mask requirement and wearing their masks incorrectly, as well as disregarding other precautions such as the dividers at lunch.
"They [masks] can be uncomfortable to some, some people are very sensitive when cloth touches them…I for one, I am not a big fan of wearing a mask, it makes me hot… but when I go out into the main halls I'll put my mask on, I just think it's a habit thing to get used to," Principal Brannon Kidd said.
Coach Comstock, anatomy and physiology teacher and cross country coach, agrees.
"Teenagers and young adults alike feel that they are bulletproof, that nothing can harm them, and it [COVID-19] hasn't affected young people like older people," Comstock said. "I also think they don't understand the big picture of how they can affect an older person and that older person could die."
"
Masks are recommended as a simple barrier to help prevent respiratory droplets from traveling into the air and onto other people when the person wearing the mask coughs, sneezes, talks, or raises their voice. This is called source control. This recommendation is based on what we know about the role respiratory droplets play in the spread of the virus that causes COVID-19, paired with emerging evidence from clinical and laboratory studies that shows masks reduce the spray of droplets when worn over the nose and mouth."
— CDC
"I think that if you read at all, whether it be social media, or any news articles, or if you watch any news at all, they've been very clear, and I think it's just people's unwillingness to know [how masks work.]" Coach Comstock said.
Many people have been concerned about another shut down of the school. And Kidd warns that's a possibility.
"It's probably not ever gonna come down necessarily to the population of students that get quarantined," Kidd said. "Now if we get a big rush of positive cases then that could possibly do it, but the threat of school shutting down will probably come whenever there's a lot of faculty lost and we don't have enough subs to replace those teachers."
Schools getting shut down will lead to more than just a lot of students having to deal with online education. Students depend on the school for meals, and college and career guidance and prolonged isolation will only be detrimental to the mental health of students.
Individuals in the school should do their best to follow CDC guidelines then it'd be possible for school to return to normal.
"I don't see a problem with face-to-face, I think our staff and our teachers do a good job of doing the best they can to keep the environment safe and clean," Kidd said. "And our custodians are awesome, they're constantly cleaning and working."
Students should wear masks to protect other people. While another individual on campus is most likely at low risk for dying from COVID-19, they may have family members that are very young, old, or immunodeficient.
"You have to protect everyone," Comstock said. "If you don't do that you're not concerned about everyone else's health." 
If you have any more questions or concerns about COVID-19, check out the CDC website: www.cdc.gov/coronavirus/2019-nCoV/index.html