Senior Information Night Coming Soon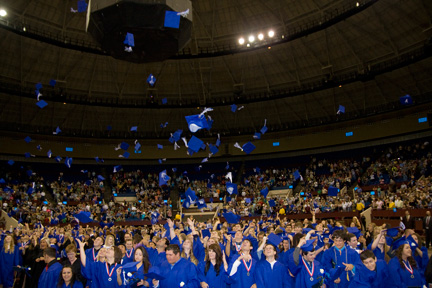 On October 21st Weatherford High School will be hosting Senior Information Night in order to provide seniors and their parents with important information about senior events, scholarship opportunities and college admissions information.  The Project Opportunity meeting will begin at 6 p.m. in Durant Auditorium, and the senior meeting will begin at 8 p.m.
The night is being organized by Mrs. Barakis and the WHS counselors, and will provide information about Project Opportunity.  Project Opportunity is a scholarship available to WHS graduates that pays qualifying seniors up to $4000 a year for tuition at Weatherford College.  In order to qualify, a student must meet several requirements including never having been arrested for a felony or drug possession charge, having met all WISD graduation requirements and the student must have a combined SAT score of 700.
The counselors will also cover information over financial aid and the college admissions process.  Parents and students will have the ability to ask the WHS counselors any questions they may have about the process for applying to college.
According to WHS lead counselor Mrs. Barakis, "It will hopefully keep your mind focused on doing the best you can do."
The evening is sure to be informative and useful to all participating students, and all seniors, underclassmen and parents are encouraged to attend these meetings.