A Loyal Roo: Laci Blanton
Hang on for a minute...we're trying to find some more stories you might like.
Roo Pride. We hear it constantly, but what does it really mean to have school spirit? Well, senior Laci Blanton is a picture perfect example of what it means to 'bleed blue'. This girl does it all and does it well. She's both a WHS Blue Belles and WHS Cheerleader and this school year will be her 4th year of happily juggling both.
As a Belle for all of her high school years, Laci has made precious memories with her dance family, not to mention the amazing opportunities she wouldn't have been able to have without Blue Belles.
"My favorite memory from [Blue] Belles is being able to march in the Dallas Christmas parade my Sophomore year," Blanton said. "My favorite part about being on [Blue] Belles is that I've had so many opportunities that I would not have had without Belles. Such as going to Branson Missouri and going to Disney World Florida."
In addition to her Belle career, Laci has also been a Cheerleader for the WHS Cheer program for four years as well. Cheer runs in the Blanton family, as one of Laci's favorite memories when she got to cheer alongside her older sister, April Blanton, at WHS homecoming games. Roo Pride seems to run in their DNA!
Cheer holds a special place in Laci's heart, and not just because of the stylish uniforms or exciting events, but because Laci and her teammates are the pulse of the Roo Pride at WHS. The close bonds formed on the team make up the very heart of the Weatherford Community.
"My favorite part about my Cheer team is that all my best friends are on the Cheer team with me," Blanton said.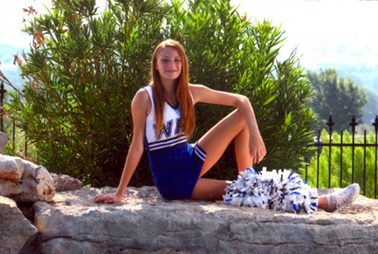 Being in both WHS Cheer and Blue Belles Laci didn't only learn skills to use in those particular activities, but she also learned things that will impact how she lives the rest of her life. She's been taught several life lessons along her journey at WHS as a Belle and Cheerleader.
"What both teams have taught me, [is] organizational skills, discipline, [they] have [also] taught me how to manage my time and how to be a team player," Blanton said
Laci has left a lasting impression on both teams.
"I have loved having Laci for the past 6 years," said Blue Belle head director, Laura Buckner. "I had her as an All Star for two years and a Blue Belle for four years. Laci is talented in both activities. She has had to balance the demanding before and after school schedules for both groups. It hasn't always been easy, but the fact that she has done it for four years says a lot about her persistence and dedication. She has grown as a performer and as a young lady. I will miss her when she graduates!"
Laci has been known for being a hard worker in both organizations, she goes the extra mile when it comes to her passions.
"Working with Laci has been great," said head WHS Cheer coach, Hailey Brown. "She manages being a Belle and being a cheerleader so well and makes it look easy, but clearly we know that it is not. Laci brings hard work to the table and her energy that she comes to practice with feeds onto others. She never misses a practice and is always one I can count on to be there for last minute events."
Along Laci's journey of being in both WHS Cheer and Blue Belles, several doubted if she could truly handle the load, but she proved them wrong, by smiling through every minute of each activity.
Laci Blanton is an inspiration to future Roos that anything is possible with a positive attitude, Roo Pride and hard work.
Whether it be cheering on the Roos by standing on the sidelines yelling with all her might, or standing in squad lines in the bleachers and then dancing at halftime, Laci Blanton is a great example of what it means to 'Bleed Blue'. Not only is Laci a great WHS Cheerleader and Blue Belle but also a great leader. She will be missed by many after she graduates, as she moves on to the next chapter in her life she has left a lasting impression on the underclassmen of how to carry on the Weatherford name. Hats off to Laci Blanton!
"The advice I would give to future Belle Cheerleaders is that it's gonna be tough at times, but all you gotta do is keep pushing forward and take advantage of every moment because it goes by so fast and you won't get it back. The lasting impression that being in both teams have left me is it has allowed me to leave a legacy for any girls in the future that don't believe they can do both or handle both," said Blanton.